5 Days of Diwali 2023: Diwali is one of the most important festivals in India. The festival is widely celebrated as a cultural festival over 5 days. Each day of Diwali has a different meaning of celebration and significance. People perform puja and rituals each day. What are the 5 days of Diwali? What is the significance of each day of Diwali? We are going to talk about the 5 days of the Diwali festival and their significance in a little more detail.
Introduction
Diwali, also known as Deepavali, is one of the most celebrated festivals in India, representing the triumph of light over darkness and good over evil. This grand festival is observed over a span of five days, each day holding its unique significance and rituals. In this article, we will explore the profound importance of the 5 Days of Diwali in Indian culture and traditions, shedding light on the festivals, customs, and benefits they offer.
5 Days of Diwali 2023 Date
5 DAYS OF DIWALI 2023
S.N.
DATE
DAY
RITUAL
Day 1
10 November
Friday
Dhanteras or Dhanvantari Day
Day 2
11 November
Saturday
Naraka Chaturdashi or Chhoti Diwali
Day 3
12 November
Sunday
Lakshmi Puja or Diwali
Day 4
13 November
Monday
Govardhan Puja
Day 5
14 November
Tuesday
Bhai Dooj
Day 1: Dhanteras – Welcoming Wealth
The First Day of Diwali is known as Dhanteras or Dhanvantari Day. The word "Dhanteras" is derived from two Sanskrit words, "dhan" meaning wealth and "teras" meaning thirteenth. It comes on the thirteenth lunar day of Krishna Paksha of Karthik month. This day is dedicated to the main avatar of Vishnu, a critical Hindu God. This is a day of prayers for good health and fortune.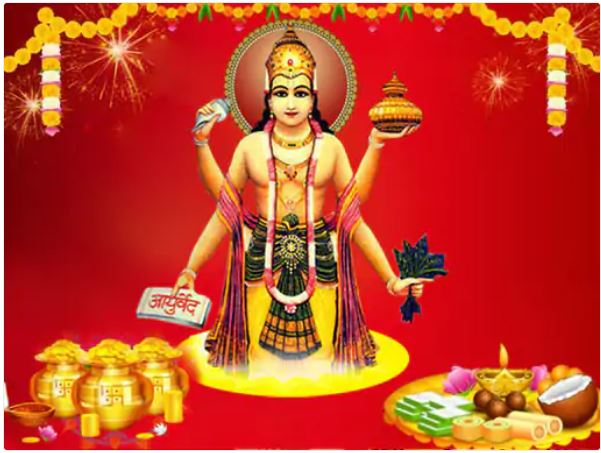 In order to welcome Goddess Lakshmi, a goddess of wealth and success, people clean and decorate their homes with rangolis and Diyas on this day. Families do Lakshmi Puja in the evening in order to pray to the goddess of wealth for her blessings.
Dhanteras is popularly known for buying brand-new appliances or other products on this day. It is believed that buying new appliances on this day is a sign of luck and success. Know more about Dhanteras. Visit Here:-Why is Dhanteras Celebrated?
Significance:
People believe that buying new utensils or gold on Dhanteras brings prosperity and good luck to their homes.
Lighting lamps and diyas (oil lamps) to welcome Goddess Lakshmi, the goddess of wealth, is a common practice.
Day 2: Naraka Chaturdashi (Chhoti Diwali)
Naraka Chaturdashi, or Chhoti Diwali is celebrated on the second day of Diwali. This day falls on the fourteenth day of the dark fortnight of Kartik month. Naraka Chaturdashi celebrates the victory of Lord Krishna over the Naraka demon. Lamps are lit up in Krishna temples across the state. In fact, many will celebrate Diwali only on this one day, and go about their everyday life on the other days. To commemorate the triumph of good over evil, people make special Diwali treats like laddoos and barfis as well as light fireworks. Choti Diwali is celebrated at various religious places and ghat in India.
Significance:
People wake up early and take oil baths to cleanse themselves of impurities.
Lighting oil lamps symbolize the victory of light (good) over darkness (evil).
Also Read:- Deepotsav in Ayodhya
Day 3: Lakshmi Puja or Diwali – Celebration of Light
The festival's main day is the third day of Diwali. It is observed on the first day of the Hindu month of Kartik, on the new moon. Among the 5 days of Diwali, the third day is the biggest celebration. People decorate their homes with clay lamps ( Diya), candles, and LED Lights.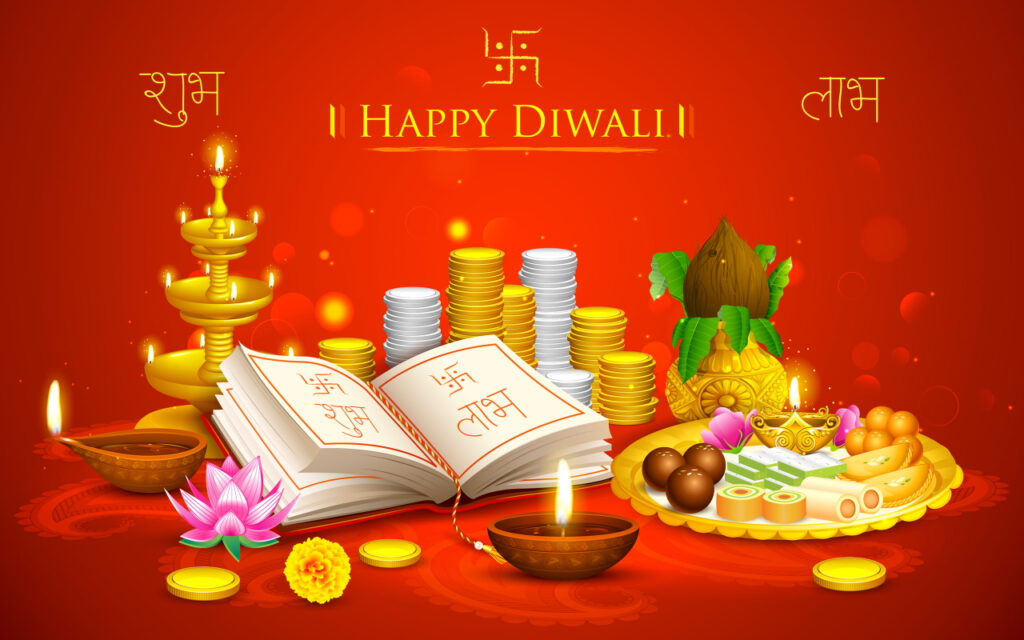 Diwali, the third day of the festival, is the most significant and is known as Lakshmi Puja. This day coincides with the new moon night and falls on the fifteenth day of Kartik month. The third day is the most vibrant of all 5 days of Diwali. People dress in Traditional Indian dresses and perform Diwali rituals in their homes, offices, and workplaces to welcome the Goddess of Wealth. They pray to Goddess Lakshmi and Lord Ganesha on this day. A warm celebration is seen by decorations of lights, rangoli making, bursting different types of firecrackers, and an exchange of Diwali gifts and sweets with friends and colleagues. Know more about the Diwali celebration. Visit Here:- How to celebrate Diwali?
Significance:
Homes are illuminated with earthen lamps, candles, and colourful lanterns to drive away the darkness.
Fireworks and bursting of crackers signify the victory of good over evil and the triumph of light.
The exchange of gifts and sweets symbolizes love and unity among families and friends.
Rangoli, intricate designs made with coloured powders, adorn entrances to welcome guests.
Day 4: Govardhan Puja – Worshiping Food
The Govardhan Puja is celebrated on the fourth day of Diwali. This day is also known as Annakut or Bali Pratipada. The fourth day of Diwali is significant marking how Krishna protected people from the anger of God Indra. This day commemorates Lord Krishna's lifting of the Govardhan Hill to protect the people of Vrindavan from Lord Indra's wrath. People make special foods and give prayers to Lord Krishna on this day. They use cow dung to create a copy of Govardhan Hill, which they adore. People go to temples and take part in neighbourhood activities.
Significance:
Devotees create a symbolic Govardhan Hill from cow dung and worship it.
Preparations of a variety of vegetarian dishes are offered as prasad (divine offering).
Cattle, especially cows, are honoured for their role in agriculture and dairy production.
Day 5: Bhai Dooj – Celebrating Sibling Bond
Bhai Dooj is the fifth and last day of Diwali. This day is also known as Bhau Beej and Bhai Tika. Bhai Dooj is celebrated on the second day of the bright fortnight of Kartik month as per the Hindu calendar. Like the Rakshabandhan Festival, this day is also significant for brothers and sisters. Sisters do aarti and put tilak on their brother's forehead on this day. Brothers promise to safeguard their sisters while giving them gifts. People gather with their loved ones for a joyful lunch. Prayers are offered for good wealth and fortune. It is a day dedicated to strengthening the bond between brothers and sisters.
Significance:
Sisters perform aarti (ritual) for their brothers and apply tilak (a mark) on their foreheads.
Brothers shower sisters with gifts as a token of love and protection.
It symbolizes the love and duty between siblings.
Conclusion
The 5 Days of Diwali encapsulate the essence of Indian culture and traditions. They offer a unique blend of spirituality, festivity, and cultural preservation. These days not only celebrate the victory of good over evil but also reinforce family bonds, promote unity, and bring joy and prosperity to millions of households across India. By understanding the significance of each day, one can truly appreciate the splendour and depth of this illuminating festival.
Also Read:
Most Important Hindu Festivals
FAQs
Q1: Why is Diwali celebrated over 5 days?
A1: Each day of Diwali has its own significance and rituals, creating a holistic celebration experience.
Q2: What are the 5 days of Diwali?
A2: The 5 Days of Diwali are in the order such as 1st Day-Dhanteras, 2nd Day- Choti Diwali, 3rd Day- Lakshmi Puja, 4th Day- Goverdhan Puja and 5th Day- Bhai Dooj.
Q3: What is the spiritual meaning of Diwali?
A3: Diwali represents the triumph of good over evil, inner light over darkness, and righteousness over ignorance.
Q4: How is Diwali celebrated outside India?
A4: Diwali is celebrated by Indian communities worldwide, often involving traditional rituals and cultural events.
Q5: How has technology influenced Diwali celebrations?
A5: Technology has led to virtual gatherings, online greetings, and eco-friendly initiatives to adapt Diwali to the modern world.