5 Days of Diwali, Significance & Celebration
Diwali is one of the most popular festivals in India. The festival is celebrated over 5 days, between the middle of October and early November. The dates vary by a few days every year.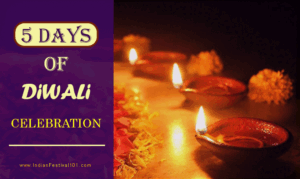 5 Days of Diwali
Here we are going to talk about the five days of the Diwali festival and their significance. At the end of this blog, you will come to know about these five days of the beautiful festival.
 

5 DAYS OF DIWALI 2022

 

S.N.

DATE

DAY

RITUAL

Day 1

22 October

Saturday

Dhanteras or Dhanvantari Day

Day 2

23 October

Sunday

Hanuman Puja or Chhoti Diwali

Day 3

24 October

Monday

Lakshmi Puja or Diwali

Day 4

25 October

Tuesday

Govardhan Puja

Day 5

26 October

Wednesday

Bhai Dooj
Day 1:– Dhanteras or Dhanvantari Day
The First Day of Diwali is known as Dhanteras or Dhanvantari Day. This day is dedicated to the main avatar of Vishnu, an important Hindu God. 
This is a day of prayers for good health and fortune. Food is offered to Lord Vishnu. Incidentally, Lord Rama is believed to be an incarnation of Vishnu.
Day 2:– Hanuman Puja or Chhoti Diwali
The second day of Diwali is known as Hanuman Puja or Chhoti Diwali. This day is also known as Naraka Chaturdashi. This day is the celebration of the victory of Lord Krishna over the Naraka demon.
On this day earthen lamps or Diya are lit up in Krishna temples. In fact, many will celebrate Diwali only on this one day, and go about their everyday life on the other days.
Day 3:– Lakshmi Puja or Diwali
The third day of Diwali is known as Lakshmi Puja. To offer prayers to the Goddess of Wealth, Lakshmi, and also Lord Ganesha. Homes are decorated with lights.
Day 4:– Govardhan Puja
The fourth day of Diwali is celebrated as Govardhan Puja. This festival is most popular in North India. This day marks how Krishna protected people from the anger of God Indra. Food decorated in pyramid form is offered to everyone.
Day 5:– Bhai Dooj 
The fifth day of Diwali is known as Bhai Dooj. Bhai Dooj is the festival of brother and sister. People visit their relatives and friends with sweets and other gifts. Prayers are offered for good wealth and fortune.
The 5 days of Diwali brings good fortune, health, and wealth into people's life. During these 5 days of Diwali, people celebrate the festival in full mood. This festival gives a chance to people to take a break from daily stressful life, enjoy these 5 days with family and friends, and make them ready to start their work to their full potential.