International Day of Yoga: Yoga has gained immense popularity worldwide. Millions of enthusiasts who are conscious about their physical, mental, and spiritual health, practice Yoga on a regular basis. The World is ready to celebrate the 9th International Yoga Day on June 21, 2023, this year. Special preparation is being done for the Yoga Day celebration by different organizations and governments of different countries. We will know here about the celebration of International Day of Yoga 2023, the theme of Yoga Day, its Significance, History, and many more. At the end of this blog, you will come to know every detail about International Yoga Day.
International Yoga Day 2023 Theme
International Yoga Day is celebrated with a different theme each year to create awareness about a particular subject. This year, the 9th International Day of Yoga is being celebrated in the world. The 9th International Yoga Day theme is  'Yoga for Vasudhaiva Kutumbakam'  or 'Yoga for the Welfare of All as One World-One Family.' Speaking on the 102nd episode of Mann Ki Baat, Prime Minister Narendra Modi announces the International Yoga Day Theme 2023 on Sunday. Checkout:- List of Themes of all International Yoga Day
History of International Yoga Day | How Yoga Day Started?
International Yoga Day owes its existence to India, the birthplace of Yoga. The idea of International Yoga Day was brought to notice by Narendra Modi the Prime Minister of India. On September 27, 2014, He proposed the idea of a dedicated day for Yoga during his speech at the United Nations General Assembly with the aim to promote global health with harmony through Yoga. Since then the day has been observed annually, gathering, participation from individuals, communities, and governments across the world. A resolution to establish June 21 as International Yoga Day was introduced by India's Ambassador, Ashok Kumar Mukerji.
The date of June 21 was chosen as it is the Summer Solstice, the day when there is the most sun out of every other day of the year. Overall, it received support from 177 nations, the highest number of co-sponsors for any UN resolution, proclaiming June 21 as International Yoga Day. The first International Yoga Day was celebrated on June 21, 2015, around the World.
Also Read:- Yoga Day Celebration In India
Significance of International Yoga Day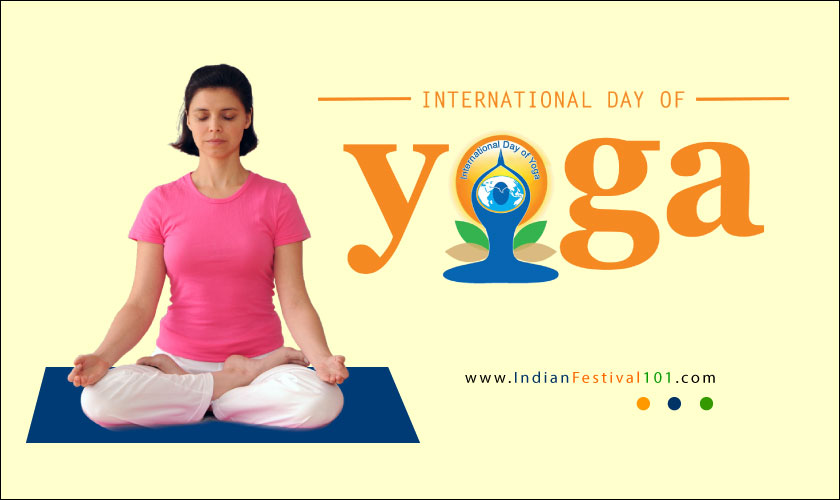 International Day of Yoga is celebrated to promote yoga as a comprehensive approach to wellness. The aim of this day is to create awareness of the health benefits of yoga practices and educate people about the physical, mental, and spiritual benefits. The day encourages people of all ages, backgrounds, and fitness levels to engage in yoga practices and experience the transformative effects. The global observance of International Yoga Day emphasizes the universality of Yoga, irrespective of cultural, religious, and geographical boundaries.
Also Check:- Indian Festivals in June 2023
Conclusion
International Yoga Day serves as a global platform for promoting and practicing yoga, nurturing physical, mental, and spiritual health. It encourages individuals and communities worldwide to embrace yoga's transformative power and unity. By incorporating Yoga into our life we can experience its profound benefits and make a healthier and harmonious World. Let's unite on this special day and beyond to make a culture of wellness and embrace the timeless wisdom of Yoga. 
International Yoga Day FAQs:-
Who Started Yoga Day?
177 member states of the United Nations General Assembly endorsed PM Narendra Modi's suggestion to celebrate June 21 as International Yoga Day.
What kind of equipment do I need to practice yoga?
The most important equipment is flexible athletic clothing and a yoga mat.
Why is June 21 celebrated as Yoga Day?
June 21, also called the summer solstice, is the longest day of the year. Therefore, it was decided that International Yoga Day would be celebrated on this day.