West Bengal, India's cultural cauldron is a fusion of the arts, the city, the countryside, the mountains, and the natural world. No matter whether you're looking for intellectual stimulation in the company of authors and roaming minstrels or something more daring in the company of rhinoceroses, these varied West Bengal tourism destinations have something for you. We are here to explore some of the best tourist places in West Bengal.
Sundarban National Park
Sunderbn is one of the best tourist places in West Bengal. The Sunderbans is considered to be one of India's most important national parks. This beautiful tangle of mangrove rainforest is the biggest in the world and it is the only one where tigers may be found in the wild! Its territory has 102 islands (about half are inhabited), and it stretches into neighbouring Bangladesh.
The Sundarbans can only be reached by boat, and exploring them in this manner is a once-in-a-lifetime adventure that should not be missed. However, don't hold your breath for sightings of tigers. They're very timid and prefer to stay concealed inside the reserve's boundaries.
Highlights:
Tiger Reserve
Biosphere Reserve in West Bengal
Digha Beach
Do you have a soft spot for the water? If this is the case, Digha is your heaven on Earth, and it provides an entertaining experience to every one of its guests. Take a swim in the sea and have a good time splashing about in the water with your friends. As soon as you are through swimming, go on the beach and dry yourself off before heading out to one of the beachfront vendors for some mouth-watering fish and chicken fries.
Are you a thrill-seeker who enjoys trying new things? If this is the case, engaging in exciting activities such as speed boating, quad-riding, and parasailing is necessary. One-day tours of Digha's most popular tourist sites, including the Digha Gate, Amravati Park, Mohona Watch Point, and Digha Science Centre, may be arranged.
Digha is undoubtedly one of the most beautiful tourist places in West Bengal. Thanks to its combination of the beautiful sea, bustling beaches, pleasant natural landscapes, and a variety of resorts. Don't you think so? Plan a weekend vacation to Digha to get a sense of the place for yourself.
Highlights:
New Digha Beach
Shankarpur Beach
Talsari Beach
Udaipur
Marine Station/Aquarium of Zoological Survey of India
Temple at Chandaneswar
Murshidabad: Home of Several Islamic Structures
Want to experience life as a member of the royal family of West Bengal? Take a weekend vacation to Murshidabad to complete the task. Murshidabad, the old seat of the Nawab of Bengal, is home to several Islamic structures that will leave you captivated by their beauty. What's the primary draw in this place? The Hazarduari Palace, without a doubt, is the best place to view royal artefacts from the reign of Bengal kings.
After dark, visitors may enjoy a magnificent view of the palace, which has been lavishly lit with many spotlights. Are you a history buff? Perhaps you might organize a day trip to ancient sites like the Nizamat Imambara, the Katra Mosque, Madina, and Nasirpur Palace to examine the delicate intricacies of these architectural marvels. Murshidabad, known for its sericulture, ivory and woodcraft, beautiful lakes, and other attractions, has earned the right to be considered one of the finest tourist destinations in West Bengal.
Highlights:
Hazarduari Palace Museum
Imambara
Wasef Manzil
Jalangi River
Kalimpong
A haven for those who love to be active and outdoors! If you like exciting activities and unique flora and wildlife, then Kalimpong is the place to be in India. Many West Bengal sites of interest may be found in and around the town, including Deolo Hill, Pratima Tagore House, Morgan House, and the Neora Valley National Park. Do you want to see a leopard with your own eyes? Take a jungle safari in the Neora National Park to watch your wish come true! It's that simple! Some endangered species, such as the Asian golden cat and the Asiatic black bear, maybe see if you are fortunate enough to observe them. Do you want to go on an even more exciting adventure? Try your hand at whitewater rafting on the Teesta River or mountain hiking via the Kalimpong hills.
Highlights:
Deolo Hill
Graham's Home
Kalimpong Cactus
NurseryPine View Nursery
Also Read: Durga Puja Celebration in Kolkata
 Shantiniketan
 Shantiniketan, which translates as a place of peace,' will capture your heart and revitalize your mind from the moment you arrive. Did you know that Shantiniketan is where the Nobel Laureate Rabindranath Tagore's memory is kept safe for future generations? Travel back in time to the days of Kobiguru Rabindranath, and see the remains of his used things on display at Tagore's Ashram and the Rabindra Bhavan Museum in Kolkata. Even today, children at Shantiniketan are often given lessons beneath the shade of the trees. You now possess this knowledge! You may find a diverse selection of handmade decors and jewellery in the local markets, which you can inspect and purchase.
When is the best time to visit? If you like bright colours, consider a vacation to Mumbai in March to see the city covered in the vibrant hues of Holi during the Basanta Utsav. The month of December is another fantastic time to visit one of West Bengal's unusual destinations since the famous Poush Mela (fair) is held during this period.
Highlights:
Visva Bharati University. 165. Educational sites
Tagore's Ashram. Educational sites
Mandarmani
Mandarmani, a hamlet in West Bengal adorned with luxury resorts, an enticing sea, and stunning beaches, is a sought-after tourist destination. Whether you are a romantic at heart, a thrill-seeker, or a nature enthusiast, Mandarmani has ingredients to keep you captivated and charmed. Are you looking for a pleasant vacation? The world-famous Mandarmani beach will keep you amused with its variety of adventure sports and water sports. Exhilarating activities such as snorkelling, speed boating, sea surfing, and jet-skiing are available on the island. If you are on your honeymoon, rent a luxurious resort and enjoy a romantic getaway on the shores of the sea.
Highlights:
Darjeeling- Hill Station in India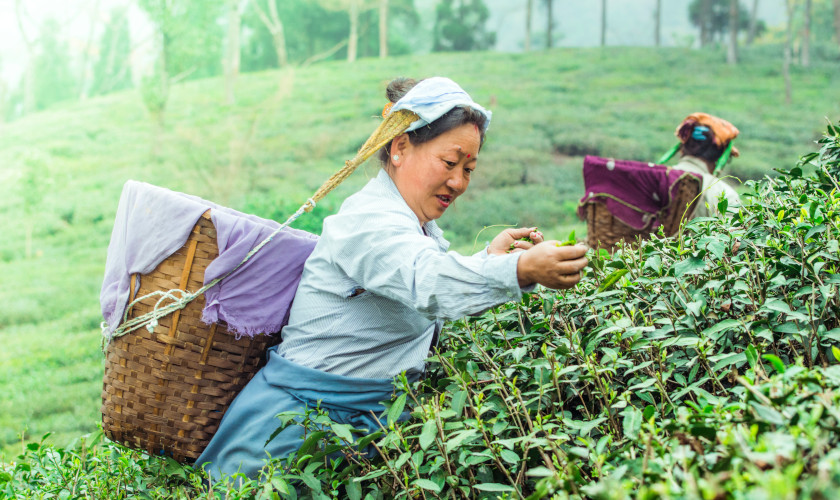 Darjeeling, rather than Kolkata, is the location that distinguishes West Bengal as a distinct region. Darjeeling, a well-known hill station in India, is a location that offers visitors the chance to relax in a beautiful and tranquil setting surrounded by mountains.
This hill resort in West Bengal is surrounded by tea plantations, scarlet rhododendrons, white magnolias, birds of various kinds, colonial-era buildings, and the Toy-Train facility, making it an ideal vacation destination in India.
Highlights:
Kanchenjunga
Sandakphu
Tiger Hill
Peace Pagoda
Padmaja Naidu Himalayan Zoological Park
Batasia Loop
Lava
Everest Museum
Also Know: West Bengal Culture and Tradition
 Siliguri: Gateway of North East India
Situated in the Himalayan foothills, the town of Siliguri is a beautiful destination. It is well-known for its tea gardens and for being surrounded by a dense forest.
If you're travelling to Darjeeling, Kalimpong, or Sikkim, this city on the banks of the Mahananda River is a lovely spot to stop by on your way. If you want, you may also pay a visit to the vibrant Salugara gompa, which is located about 5 kilometres from the main town and is crowned with an enormous chorten-like tower. Additionally, the busy Hong Kong Market, which can be found just off Sevoke Road in Siliguri's central business district, is a great location to buy Chinese knock-offs.
Highlights:
Jaldapara Wildlife Sanctuary
Chilapata Forest
Coronation Bridge
Kanchenjunga Stadium
Surya Sen Park
Isckon Temple
Hooghly: Heritage Site in Bengal
Hooghly is considered one of the most prominent locations in West Bengal. It is believed to be where Sri Ramakrishna Paramahamsa and Sarada Devi lived for many years after meeting there. It also has historical importance since it was colonized by the Portuguese, the French, and the Dutch.
The impact of colonization can still be seen in the city's architecture today. As a result, this fairly crowded location is ideal for people who like spending their leisure time learning about the magnificent past.
Highlights:
Chandannagar Museum
Serampore
Bhadreswar
Tarakeshwar Temple
Hooghly Imambara
Hangseshwari Temple
Conclusion
West Bengal, located in eastern India, is a region characterized by a great deal of variety. West Bengal, home to many civilizations and renowned for its cultural variety, also has a rich historical legacy. Bengal is referenced in the Mahabharata, an Indian epic. Because of its geographical position, which stretches from the mighty Himalayas to the Bay of Bengal, the state offers magnificent scenery that will capture your hearts and minds.