How To Celebrate Diwali ?
Diwali is the festival of Light. This is the major festival of India celebrated by Hindu, Sikh, and Jain communities. Not only in India but across the world, the festival celebration is seen with the bursting of firecrackers, lighting, and decoration. Here we are coming up with Diwali celebration tips and celebration ways to keep our Festival more interesting, and joyous.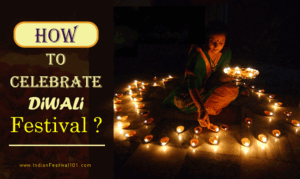 How To Celebrate Diwali
The festival of light is traditionally celebrated by lighting earthen lamps and distributing sweets and gifts among friends and family.
Activity During Diwali Celebration
Cleaning Our Home
Cleaning Office & Workplace
Preparation
Wearing traditional dresses like Indian Traditional Kurta and Saari
Preparation for Puja & Rituals
Lightening & Decoration
Rangoli Making
Earthen Pot Lighting (Diya)
Decoration with LED lights
Decoration of Doors
Diwali Puja & Rituals
Organizing Puja
Diwali Celebration
Bursting Firecracker
Playing Songs & Dance
Sweets & Gifts with Family & Friends
Cleaning Our Home
The Diwali festival celebration starts with cleaning our homes, office, and workplace.
People start cleaning their home almost one month before and renovating with paints and colors to make their home looks beautiful. This is the time for making repairs, cleaning, and throwing away unwanted things. People will also routinely clean their homes in preparation for Diwali.
Diwali Preparation & Shopping
Buying New Clothes
This is one of the biggest shopping seasons in India. Everyone will buy clothes and wear them. This is another way of getting rid of evil and moving forward, not looking back into the past. On the first day of Diwali, many will buy silver and gold coins, or utensils for the kitchen.
Buying Gifts & Sweets
Buying Puja & Ritual Items
Diwali Lighting & Decoration
In India every year, houses are cleaned, often renovated, and always illuminated with sparkling fairy lights and oil lamps.
Diya or Earthen lamps along with candles are lit up to burn off evil so that we can become pure internally. The homes are then decorated with lanterns, ribbons, strings, and lights. It is also done to prevent evil from entering the home.
Diya or Earthen Lamps
Almost every home is decorated with Diyas, which are earthen lamps. They are put up in every corner, even just outside the entrance. The light is a symbol of goodness in to fight against evil. Diya's oil represents dirt (hatred, jealousy, greed, lust, etc.), which we all have, and which makes us impure. We fight off evil by burning off the oil and emitting light. This helps us become enlightened and pure.
Diwali Rangoli Making
Hand-painted complicated Rangoli designs can be seen at the entrance of the home to capture evil and prevent it from entering. Many doorways and foyers are decorated with Rangoli; beautiful, intricate patterns on the floor that are created using materials including rice, colored sand, and flower petals.
Diwali Puja & Rituals
India is full of diversity. Although the festival is celebrated across India, Diwali rituals vary according to region. However, special blessings are given to Goddess Lakshmi and Lord Ganesha, the remover of obstacles.
It's believed that Goddess Lakshmi will visit every home during the Diwali period, bringing with her prosperity and good fortune. It's said that she visits the cleanest houses first; therefore people make sure their houses are spotless before lighting lamps to invite her in.
This cleaning also symbolizes the purification of the mind to remove negativity, clutter, and ignorance. Small statues of the goddess are worshiped in people's homes.
The Swastika Symbol & Shubh-Labh
The Swastika is for Lord Ganesha. According to Hindu customs, every new work, including a festival, can start only after paying a tribute to the Lord. You will find this symbol at the entrance of homes, business offices, and even banks. In one avatar, the Lord married Riddhi and Siddhi. The two lines at the side of the Swastika are for the two consorts of Ganesha. Shubh stands for "good", while Labh means "profit". They are the two sons of Ganesha.
Goddess Lakshmi
Mata Lakshmi is the goddess of wealth. Goddess Lakshmi symbolizes happiness, wealth, and prosperity. She is also the symbol of progress. However, it is not just for material gains. Goddess Lakshmi also stands for the spiritual growth of the body and the mind.
According to the Hindu religion and scriptures, it is said that Maa Lakshmi was born while churning the ocean on the new moon day of Kartik month during Samudra Manthan. That is why the birthday of Goddess Lakshmi is celebrated on the day of Deepawali and she is worshipped.
According to Ramayana, the second epic of the Hindu religion, on the new moon day of Kartik month, Lord Shri Ram returned to Ayodhya after conquering Lanka along with Sita and his brother Lakshmana. The whole of Ayodhya was in awe of the arrival of Lord Shri Ram, Mata Sita, and Lakshman Ji, and all three of them were welcomed with the light of Diyas. This day is also celebrated as the joy of the victory of Lord Shri Ram.
All the lights of the world cannot be compared even to a ray of the inner light of the self. Merge yourself in this light and enjoy the festival of lights.
Hope the festival of lights brings your way bright sparkles of peace, contentment, joy, and happiness which stay with you throughout this year and also in the years to come.
Diwali Celebration
Bursting Firecrackers
Celebration of victory of good over evil.
Friends and family come together to celebrate.
Every Diwali, elsewhere in India, you will always see people decorating their homes with lamps or Diyas, Rangoli designs, and Swastika symbols, and there are bonfires and fireworks too. These are the common symbols of the festival, but there is a deeper meaning and significance behind each of them.
Fireworks and Bonfires
According to Hindu mythology, the evil king Narkasur could only be killed by his mother Bhumi Devi, but she was already dead. So in a way, Narkasur was immortal. God Indra requested Krishna to do something about this. Krishna in turn asked Satyabhama, his wife, who was a reincarnation of Bhumi Devi to help him.
In a fight that followed, Krishna was heavily injured by Narkasur. Satyabhama was furious after seeing this and killed Narakasura with a weapon. But before his death, Narkasur asked for a boon from his mother. Krishna then said that everyone will celebrate his death by bursting firecrackers, and bonfires, distributing sweets and lighting their homes.
Playing Music & Dance
Diwali Gift & Sweets
Gifts and sweets are also exchanged during Diwali like they wish for a "Happy Diwali". While Diwali is "probably best experienced in India", it is a global celebration.
Traditionally, new clothes or sweets were given away. But now people are even gifting food baskets, dry fruits, electronic appliances, and gift vouchers. Gifts are given to both younger, and older family members, and friends.
During Diwali, a variety of traditional sweets and savory dishes are consumed. Sweets are made at home and given away to friends, relatives, and neighbors. Those who cannot prepare it at home will buy it from shops.
Suran Vegetables on Diwali
On the day of Deepawali, the vegetable of Suran is made. Suran is also called Jimikand (somewhere Oal). Nowadays, hybrid Suran has come into the market. Sometimes even 2 indigenous Suran is available.
In childhood, this vegetable was not pleasant even with a broken eye, but since it was made as soon as it was made, it had to be eaten with a sigh. Grandmother used to say that one who does not eat Suran on this day will be born a mole in the next life, This is being eaten continuously thinking that mole should not become.
Importance of Suran Vegetable
Suran is the only vegetable in which phosphorus is found in excessive quantity, it is such a belief and now even medical science has accepted that if we eat native Suran vegetables on this one day, then the whole body of a healthy person. There will be no shortage of phosphorus in the year.
It protects from serious diseases like piles to cancer. It contains fiber, vitamin C, vitamin B6, vitamin B1, and folic acid. In addition, potassium, iron, magnesium, and calcium are also found in them.
I do not know how long this tradition is going on, but think it is true that even in our folk beliefs, science was hidden.
Blessed be our ancestors who have embedded science in our traditions, customs, and rituals.