Janmashtami is the divine Indian festival celebrating the birth of Lord Krishna. It is a time of spiritual fervour and joyous occasion. As devotees across the world gather to celebrate the divine birth of little Krishna, Janmashtami decoration ideas play a significant role in creating an environment that resonates with devotion and reverence. We are here to guide you for the best Janmashtami decoration ideas that will catch the attention of everyone and make the celebration memorable.
Janmashtami Decoration Theme
Before Janmashtami decoration, we need to keep certain things in mind and make a decoration plan accordingly. Janmashtami decoration can be more beautiful and attractive when we define the decoration concept. Preplanning helps you to short out all decorative items and designs you are going to use. Remember that Janmashtami is a Hindu religious festival, It should be some spiritual and religious concepts related to Lord Krishna's birth. Lord Krishna is known for spirituality, love and his naughty childhood. Thus the concept can add spirituality, Indian culture,
1. Attractive Krishna Bed Decoration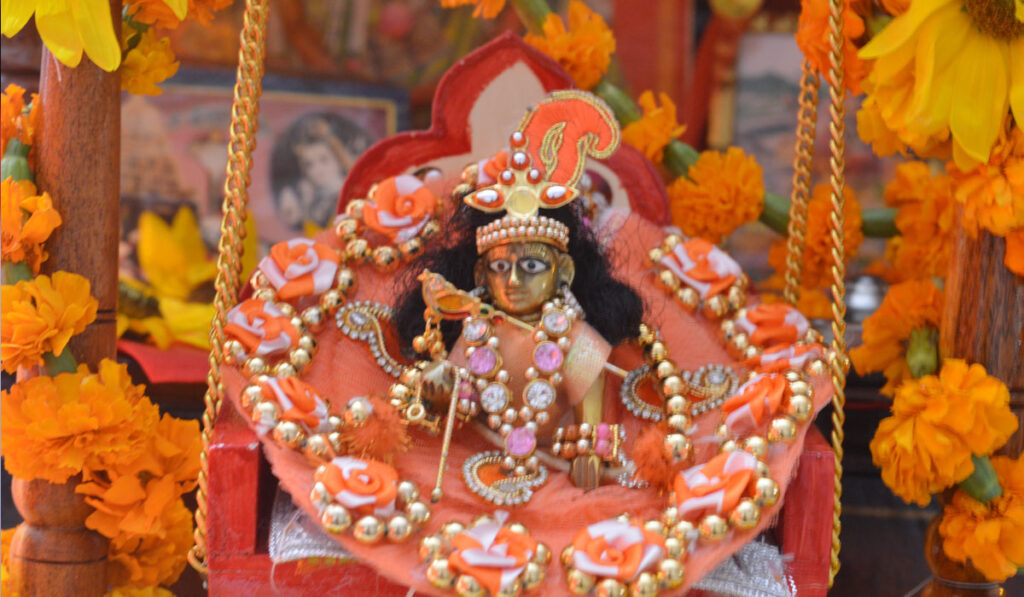 The main attraction of Janmashtami celebrations is Bal Krishna's bed. This symbolizes the divine birth of little Krishna. We can decorate the Krishna bed with rich fabrics, intricate embroidery, and delicate garlands of marigolds and roses. Place the idol of little Krishna amidst the luxurious decor, creating an attractive visual representation of his birth.
Also, Know Mathura Krishna Janmashtami
2. Beautiful Flower Decoration
As per the Hindu rituals, Flowers are one of the essential elements of any celebration and Janmashtami is no exception. Create beautiful floral arrangements using vibrant blooms like lotus, tulsi, and jasmine. These flowers not only add beauty but also infuse the surroundings with their sweet fragrance, creating an aura of divine purity.
3. Make a Beautiful Front Door
Front Door decoration symbolises auspiciousness, goodness and positivity. Front door decoration sets the tone of the entire celebration. Decorate your front door with colourful rangoli and traditional items that radiate positivity and good fortune. You can use, banana leaves, mango leaves and banana trees for front-door decoration. Welcome guests into your home with beautiful rangoli designs that adorn your doorstep. Incorporate traditional motifs like peacocks, lotus flowers, and footprints of Lord Krishna. These colourful designs not only add aesthetic charm but also symbolize prosperity and positive energy.
Also Know: Dahi Handi Utsav
4. Ethnic Decor Accents
Embrace the rich cultural heritage of Janmashtami by incorporating ethnic decor accents. Utilize traditional brass lamps, antique bells, and intricately carved wooden panels to create an environment that transports you to a bygone era of devotion and spirituality.
5. Flute and Peacock Feather Decoration
The flute and peacock feathers are iconic symbols associated with Lord Krishna. Incorporate these elements into your decor by using miniature flutes as table centrepieces and peacock feathers as part of your wall art. These embellishments pay homage to the divine persona of Lord Krishna.
Also Check: Krishna Dress for Kids
6. Swings and Jhoolas
Swings symbolize the playful spirit of Lord Krishna. Create a swing or Jhoola decorated with colourful cushions, delicate fabrics, and floral garlands. This charming setup not only adds humour to your decor but also captures the essence of Lord Krishna's youthful exuberance.
7. Vibrant Curtain and Fabrics
Drape your living space with vibrant fabrics that reflect the joyful spirit of Janmashtami. Utilize rich textiles like silk, velvet, and brocade in shades of blue, yellow, and green. These fabrics infuse the atmosphere with a sense of abundance and splendour.
8. Transform the Wall with Artful Murals
Transform your walls into attractive visual stories by decorating them with wall murals depicting scenes from Lord Krishna's life. From his birth in a prison cell to his enchanting Raas Leela, these murals encapsulate the divine journey of Lord Krishna.
9. Design a Dedicated Puja Alcove Elegance
Design a dedicated puja nook where you can perform rituals and prayers to honour Lord Krishna. Utilize traditional puja items like brass lamps, incense holders, and copper vessels. Arrange these items meticulously to create a harmonious and sacred space.
10. Divine Backdrop and Photo Booth
Set up a divine backdrop with images of Lord Krishna, decorate with flower garlands and soft lights. This is the perfect spot for taking photographs that capture the essence of your Janmashtami celebrations, allowing you to relive the joyous moments for years to come.
Also Check: Janmashtami Festival, Significance and Celebration
Conclusion
Janmashtami is a time of spiritual devotion and cultural celebration. By embracing these meticulously curated Janmashtami decoration ideas, you can create an environment that pays homage to Lord Krishna and brings a sense of joy, unity, and divine presence to your celebrations. Each element you choose contributes to a sensory experience that deepens your connection with the beloved dei