During Durga Puja, Kolkata transforms into a veritable 'fiesta.' While bouncing from pandal to pandal is the main attraction, don't miss these other culturally rich activities. If you are thinking about planning your trip to Kolkata, then the perfect time is during Durga Puja Celebration in September-October.
Introduction
When Bengal's most celebrated festival, Durga Puja, takes place every year in Kolkata, the streets are alive with laughter, beautiful lights and elaborate pandals filled with exquisite idols of goddess Durga, her children, goddesses Lakshmi and Saraswati and the Hindu god Kartikeya and goddess Ganesha.
It is not only about religion while celebrating Durga Puja or Durgotsava. Unparalleled citywide celebrations and colossal Durga idols have become associated with the unique event. All-night pandal hopping is also a part of the experience.
10 Best Moments of Durga Puja in Bengal
The numerous reasons to visit Kolkata during Durga Puja make it a must-see on the bucket lists of all intrepid travellers. Cultural connoisseurs will find that the festival's communal euphoria has a unique appeal.
1. Creation of Beautiful Durga Idols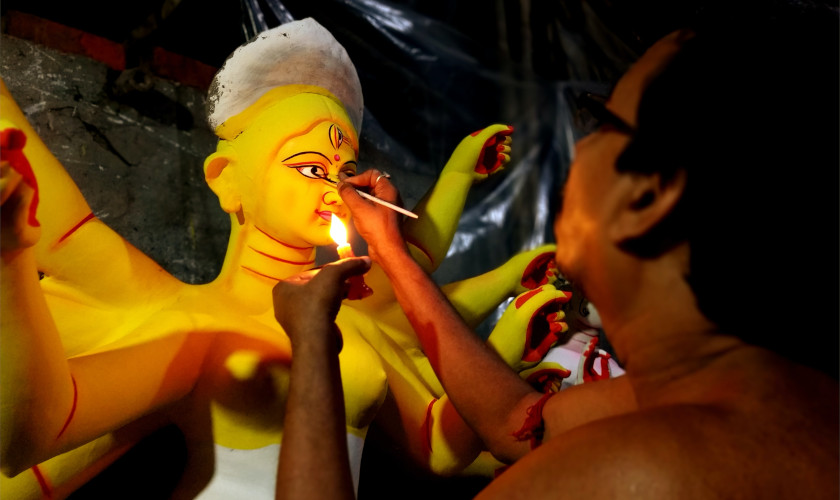 Goddess Durga's handmade statues are gorgeous. However, after you realise how much work goes into creating them, you'll love them much more. Fortunately, doing this is not difficult.
Kumartuli | How to Go to Kumartuli ?
Kumartuli is the home of Kolkata's best Durga idol maker. The bulk is made at Kumartuli in north Kolkata, around 30 minutes away by car from the city centre. Kumartuli is where most of them are made.
Named after a group of potters, "potter's locality" literally means "potter's location." The population has grown to about 150 potter families in the last several decades. During Mahalaya (about a week before Durga Puja begins), an auspicious ceremony known as Chokkhu Daan involves drawing the eyes of the idols upon them.
2. Pandal Hopping Challenge
No question, seeing the numerous distinct exhibitions (pandals) of Goddess Durga, each with its own theme or decorating flair, is the highlight of Durga Pujan. This kind of behaviour is known as "Pandal Hopping."
The city of Kolkata is home to tens of thousands of pandals, and seeing even a tiny percentage of them requires careful preparation due to their dispersion across the city. The most well-known is located on the north and south sides, linked by the Metro rail system.
When the pandals are illuminated at night, it's the most popular time to go pandal hopping. You'll be able to escape the crowds if you go throughout the day.
3. Bonedi Bari Puja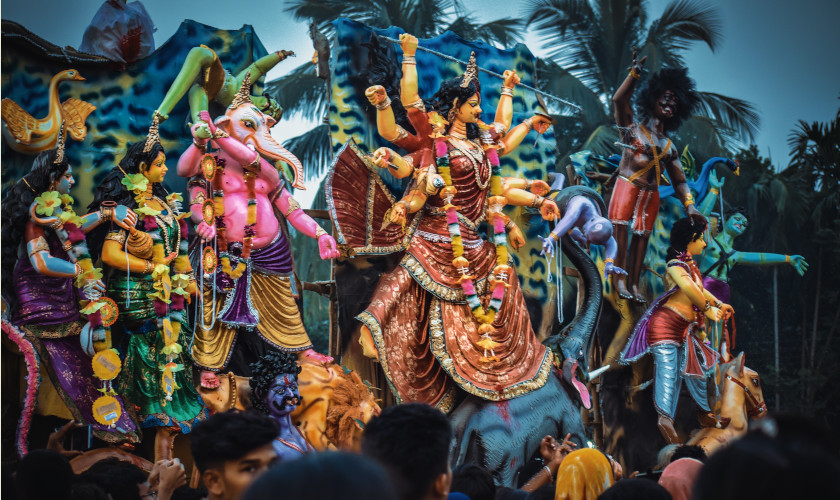 One of Kolkata's most affluent families, the Bonedis (formerly the city's largest landowners), hosts a traditional Zamindari puja in one of their luxurious homes. Among the finest traditional pujas, it includes Chhatubabu Latubabur Puja, Sovabajar Rajbari, Rani Rashmoni Chandra Bari, and other ceremonies.
Tourists and residents may see these pujas in one day, thanks to several state tourism buses. These devotional services are a treat for those who want to see the pujas up and personal.
Also Read: 10 Best Tourist Places in Bengal
4. Attend A Kumari Puja
Durga Puja also includes the Kumari Puja, which is a meaningful ceremony. Goddess Durga is worshipped in different forms throughout the event. She's adored a young unmarried virgin female in this rite. Reminder: The Goddess and her energies are everywhere. Durga Puja in Kolkata's Belur Math includes a unique Kumari Puja and a full ceremonial schedule.
5. Famous Dhunuchi Dance
To honour Goddess Durga, the devotional Dhunuchi folk dance is traditionally performed before her after the evening rites of Ashtami. While doing this, you hold a clay pot filled with burning coconut husk and camphor. Dancers follow the drummers' rhythms, which are played at varying tempos. The environment is filled with smoke, music, and rhythmic swaying. It's exhilarating and seductive.
6. Popular Street Food of Kolkata
Foods like egg rolls, chow mien, and momos can be found on almost every street corner in Kolkata. The momos in this region are very different from those found in Tibet, and as such, they're well worth tasting. You may also have tasty Dhosas and Idlis in addition to this.
Kolkata's other famous street dishes are Puchkas, Bhelpuri, Chats, and Jhalmuri. When it comes to panipuri, the Kolkata variant is known as Puchkas. Both the New Market and Park Street areas of Kolkata are hotspots for foodies. Many sellers around the pandals offer your favourite street food if you want to see the creative pandals.
7. Stunning Chaandannagar Lighting
During Durga Puja, Kolkata is transformed into a fairy town using bright lights and creative artistry. In reality, the tradition of conducting theme-based Pujo predates what was once called 'Chandannagar Lighting,' the illumination carried out by electricians from the district town. Thanks to modern technology, the lighting has improved dramatically, and if you went to the streets, you'd see these 'light' paintings all over town.
8. Goddess Durga Idol Immersion Ritual
The culmination of Durga Puja is the Immersion Ceremony when people from all around the city gather to sing and dance until the Goddess is submerged in the Ganga River. During this time, known as bhasan, people have parties in the streets; smear each other with paint, and dance to upbeat music. Ghats like Babughat, where immersion ceremonies take place, are a sight to see.
This is a once-in-a-lifetime opportunity to see the city at its most magical. During Durga Puja, Kolkata comes to life in all its radiance. Fab Hotel is the ideal choice for travellers on a budget who want high-quality accommodations. The brand is represented by several hotels located all around town.
Durga Puja in Kolkata is a memorable experience since there are so many activities to do and sights to see. The inhabitants in this city are also friendlier than those in most other cities, and when they celebrate their largest yearly festival, it's sure to be a blast.
9. Joining Adda Session
Bengalis have a deep affection for Adda sessions i.e. an informal gathering of people discussing any topic of their interest. Their Adda sessions span everything from politics to movies, poetry to travel. This Adda is a lovely occasion for family and friends to get together. At different Puja Mandaps, people spend time with one another and participate in lengthy Adda sessions.
10. Awards and Themes of Durga Puja Celebration
Every devotee of Durga Puja must go to the puja pandals (particularly at night). Over the past several years, the number of these puja pandals has steadily increased, making it impossible to attend them all. So that viewers can cover award-winning pandals, sponsors have been organising numerous awards for the finest of them. Tourists may take advantage of organised bus excursions to see the finest pandals in the area.
Conclusion
The Durga Puja festivities in Kolkata are unique. No one sleeps in this city, and its residents, who are dressed up at their finest, take full advantage of everything that's going on. This five-day festival has elaborated pandals and traditional Pujos and plenty of good food, good company, and a lot of creative expressions. The metropolis is drenched in light, making this section of the nation seem to be lit up from above. To experience it yourself, go to Kolkata during the Pujos when it's a part of life for the people.