Ganesh Chaturthi is one of the vibrant Indian festivals. Due to cultural diversity, this festival is celebrated in different ways. We are here to guide you on How to celebrate Ganesh Chaturthi at Home. We are here to guide you and let you know the best ways to make these 10 days spiritual and bring more blessings of Ganapati Bappa into your home.
How To Celebrate Ganesh Chaturthi in Home?
1. Ganapati Puja Preparation
Months before the festival, homes and public places are adorned with colourful decorations and intricately designed idols.
The Preparation of the Ganesh Chaturthi festival starts with cleaning the home. Each corner of the home is cleaned properly. Make a list of Puja materials, Ganpati Bappa decorations, and sweets to buy. Make a list of Festival shopping and purchase all puja materials. decorative items and prasad and sweets fruits etc.
2. Bringing Home the Idol of Bal Ganesha
Families and communities welcome the idol of Bal Ganesha into their homes, symbolizing his presence among them. We bring the Idol of Bal Ganesh to home. and Set on the state for performing Puja and ritual.
3. Ganesh Chaturthi Decoration
Decoration brings positivity and happiness. Communities come together to create stunning and elaborate pandals (temporary structures) to house the grand idols of Lord Ganesha. Ganpati decoration ideas take centre stage, allowing us to adorn our homes with creativity and devotion. Beautiful Ganpati decoration ideas that transcend the ordinary and help you create an unforgettable ambience that resonates with your reverence.
Decorative Items for Ganesh Chaturthi
Decoration can be started with the entrance door and then Puja place. the Ganpati Bappa idol decoration is the main point of attraction and needs a little more time to get the best looks. Decorate your entrance door with flowers, and mango leaves to welcome Ganpati Bappa. this will bring positivity to your house. Know more: Ganpati Decoration Ideas
4. Ganesh Chaturthi Puja and Rituals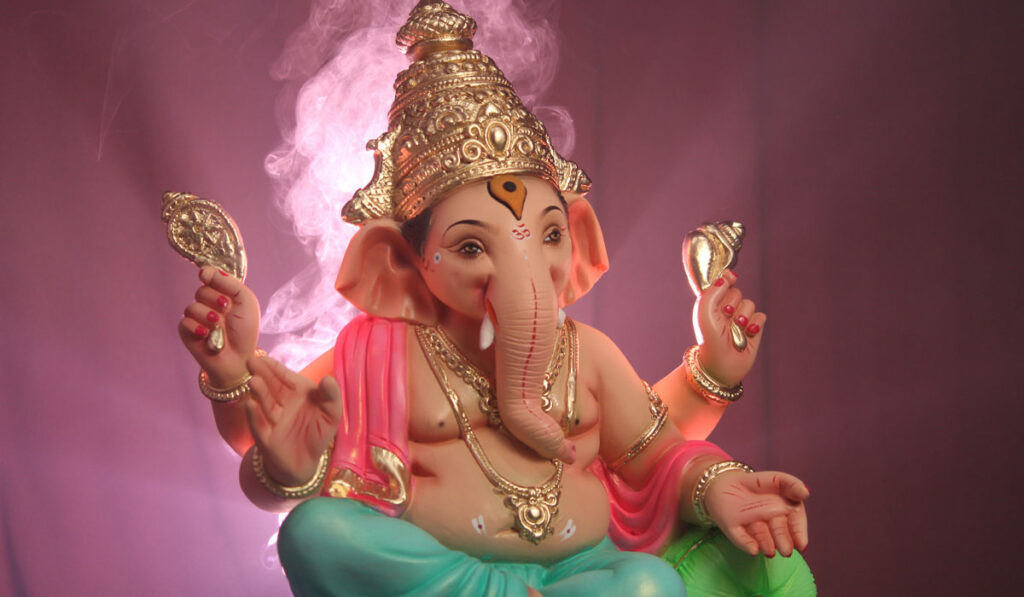 To get the blessings of Ganpati Bappa everyone is welcome Lord Ganesha in their home. Everyone follows Indian culture and rituals to get the blessings of Ganapati Bappa. A very famous slogan Ganpati Bappa Morya is a common chant.
Ganesh Puja
Elaborate rituals and prayers are performed, invoking Lord Ganesha's blessings for prosperity, success, and happiness.
Modak: Lord Ganesha's Favorite Delicacy
Modak, a sweet dumpling, holds a special place in the festivities, as it is believed to be Lord Ganesha's favourite treat.
5. Ganesh Chaturthi Celebrations
Ganesh Chaturthi is celebrated over 10 days. The grand celebrations take place on the first and last days of the festival. On the first day, clay idols of Lord Ganesha are brought into homes and public spaces. Devotees perform rituals and prayers, offering flowers, sweets, and other symbolic offerings to the deity. These idols are adorned with colourful decorations and placed in beautifully decorated temporary shrines. Throughout the 10 days, people engage in elaborate pujas (prayer rituals) and cultural events, including singing, dancing, and devotional music.
Also Know: Ganesh Chaturthi Festival, Significance
6. Ganesh Visarjan
Public processions, known as "Ganesh Visarjan," mark the end of the festival. On the last day, these idols are taken in processions and immersed in water bodies, symbolizing Ganesha's return to his divine abode. The immersion of idols in water bodies signifies the departure of Lord Ganesha, with devotees bidding him farewell.
7. Eco-Friendly Ganesh Chaturthi
On the final day, the idols are paraded through the streets with great fanfare and then immersed in rivers, lakes, or the sea, symbolizing the departure of Lord Ganesha to his abode while taking away the misfortunes and obstacles of his devotees. In recent times, there has been a growing awareness about the environmental impact of traditional practices associated with Ganesh Chaturthi, such as immersing idols made of non-biodegradable materials in water bodies. The environmental impact of the festival, particularly the immersion of idols made from non-biodegradable materials, has been a concern in recent years. Efforts are being made to promote eco-friendly celebrations by using natural materials and avoiding harmful practices.
Conclusion
We have got an overview of how to celebrate Ganesh Chaturthi in the home. Remember that there is no hard and fast rule for this festival celebration but we can follow Indian traditional rituals to mark this occasion auspicious. This festival is not only religious but also celebrated as a cultural festival in some Indian states like Maharashtra and Gujarat. The grand celebration of Ganesh Chaturthi is iconic to enjoy the favour of Indian culture.