Char Dham of Uttarakhand: There are several pilgrimage sites in India, a country known for its rich spirituality and cultural diversity, that are of great religious significance. The Char Dham pilgrimage stands out among them as the height of devotion and spiritual studies. A sacred walk known as the "Char Dham" includes four holy places, each of which is linked to a powerful Hindu god. It is said that beginning this holy journey will lead to spiritual enlightenment and freeing themselves. We shall study the significance of each of these holy places and dive into the mystery of the Char Dham in this post.
Char Dham of Uttarakhand Name and Location
The Char Dham of Uttarakhand is comprised of four sacred locations. Here is the list of these holy places.
4 Dham Name and Location

S.N.

4 Dham Name

Location

1.
Yamunotri
Garhwal, Uttarakhand
2.
Gangotri
Uttarkashi, Uttarakhand
3.
Kedarnath
Rudraprayag, Uttarakhand
4.
Badrinath
Chamoli, Uttarakhand
The Char Dham pilgrimage has roots that are deeply connected with the Hindu religion and mythology. It is widely accepted that going on this journey may purify one's soul, pay for sins, and increase one's spirituality. 
Also Check:- Char Dham in India
Yamunotri: The Home of Goddess Yamuna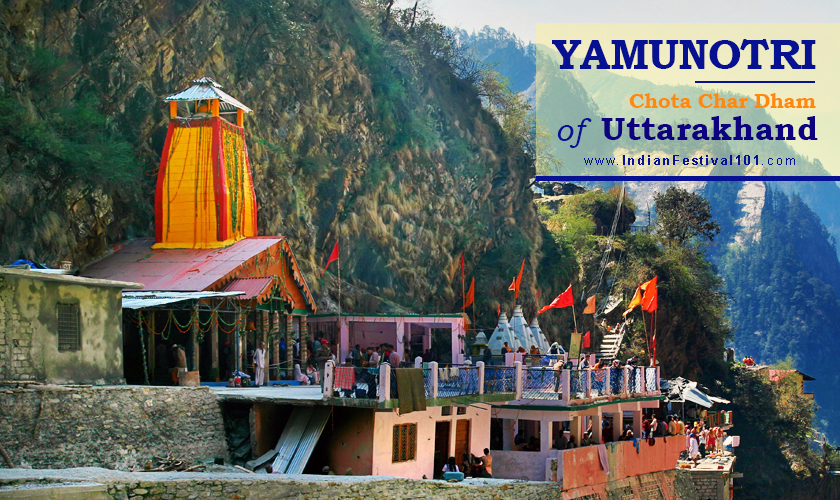 Yamunotri is the starting place of the Char Dham pilgrimage and is located in the beautiful Garhwal Himalayas of Uttarakhand. This peaceful place, located at a height of 3,293 meters, is thought to be the home of Goddess Yamuna, the divinity connected to the sacred Yamuna River. To get to the Yamunotri temple, where they offer their prayers and seek blessings, pilgrims have to go through a difficult hike. There is a sense of peace and respect due to the temple's historic architecture and the surrounding beauty.
Gangotri: The Source of River Ganges
Gangotri, which is located in the Uttarkashi district of Uttarakhand, is extremely significant as the place where the holy River Ganges originates. Mythology has it that this is where the Ganges emerged from Lord Shiva's matted hair and flowed down to Earth. To get to Gangotri, pilgrims have to walk a difficult hike. Once there, they can worship at the Gangotri temple. The peaceful environment of the temple, encircled by snow-capped mountains and roaring river streams, is magnificent. Prayers are chanted and lamps are lit, creating a supernatural atmosphere that inspires devotees.
Kedarnath: The Seat of Lord Shiva
Kedarnath, the home of Lord Shiva, is located in the Rudraprayag area of Uttarakhand at a height of 3,583 meters. Legend has it that Lord Shiva atoned for the crimes of the Pandavas at this holy location following the battle of Kurukshetra. In the middle of magnificent Himalayan peaks, the Kedarnath temple stands as a tribute to devotion and artistic creativity. To reach the temple, pilgrims have to take a difficult journey. Once there, they can immerse themselves in the spiritual energy and ask Lord Shiva for his blessings.
Badrinath: The Sacred Shrine of Lord Vishnu
Badrinath, a hallowed sanctuary of Lord Vishnu, the Hindu mythology's preserver, is a town in Uttarakhand's Chamoli district. Badrinath, which is encircled by the breathtaking Neelkanth mountain peak, emerges a divine charm that attracts visitors. Devotees who travel to the Badrinath temple in search of blessings and redemption will find a spiritual haven there since it is decorated with magnificent sculptures and decorations. The beautiful scenery and natural wonders that Badrinath gives add to the whole spiritual experience.
Conclusion
The Char Dham pilgrimage is a life-changing spiritual journey, not merely a physical one. It requires devotion, perseverance, and a persistent desire for divine grace. Millions of worshippers place their confidence in the four holy locations of Yamunotri, Gangotri, Kedarnath, and Badrinath because of their significance in Hindu mythology. Pilgrims can fully immerse themselves in India's rich cultural and spiritual heritage by participating in the Char Dham yatra. It is a timeless experience that connects people to the divine and their deepest souls. So may your soul be lifted as you begin this holy journey, and may you discover eternal serenity and enlightenment in the embrace of the Char Dham.